This spring, the Green Party unveiled a multi-pronged plan to help workers in the gas and oil sector transition to a renewable energy economy.
The Green worker transition plan, which includes skills retraining programs and massive retrofit and cleanup projects designed to create employment, fleshes out details from the Green Party's climate action plan called Mission: Possible.
"It's critical that workers in fossil fuel industries and fossil fuel-dependent communities not fear for their future," Green Party Leader Elizabeth May said. "We are not at war with fossil fuel workers. We are not at all willing to leave any part of Canada or any community behind."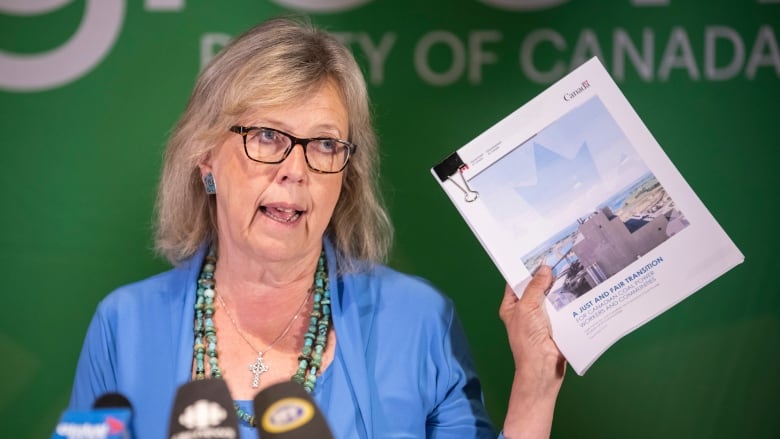 The Green Party plan to transition fossil fuel workers includes:
Investing in retraining and apprenticeship programs to refocus the skills of industrial trade workers for jobs in the renewable energy sector.
Start a massive cleanup of "orphaned" oil wells; some of which can be transformed to produce geothermal energy.
Create a national program to retrofit all buildings to optimum energy efficiency.
Establish a transition framework to factor in the unique resources and circumstances of each province.
Form partnerships with Indigenous people to ramp up renewable energy development in First Nations communities and on Indigenous lands.
May said Canada has not done well in transitioning workers in past, pointing to the loss of thousands of jobs in Atlantic Canada due to the cod moratorium and in Quebec with the shutdown of the asbestos industry.
She said a task force report released earlier this year on a just transition for Canadian coal plant workers sets a new standard, recommending locally driven transition centres, a pension bridging program and funding for skills retraining. The Green plan would adopt all 10 recommendations from the task force and apply them to other sectors impacted by moving off fossil fuels.
Natalie and the Green Party are committed to creating new opportunities for a prosperous and sustainable future – for everyone.